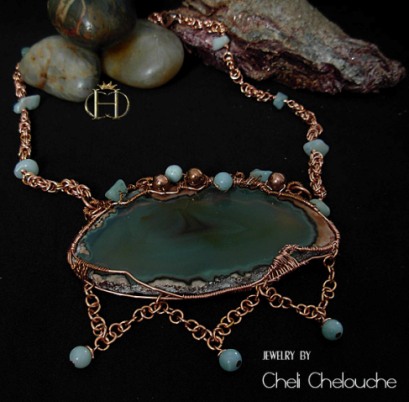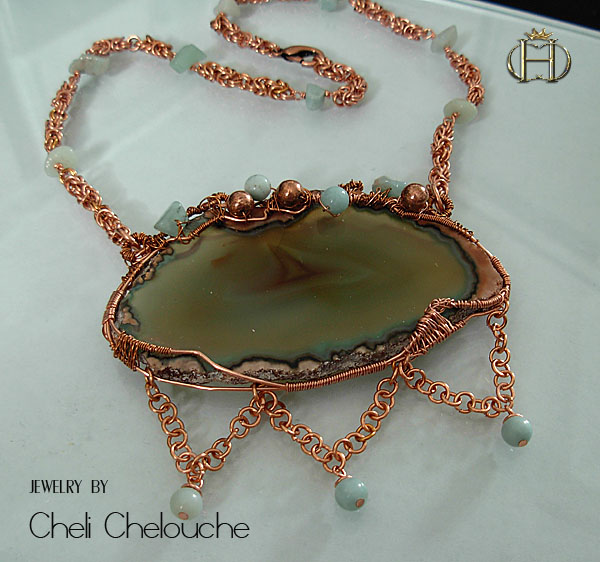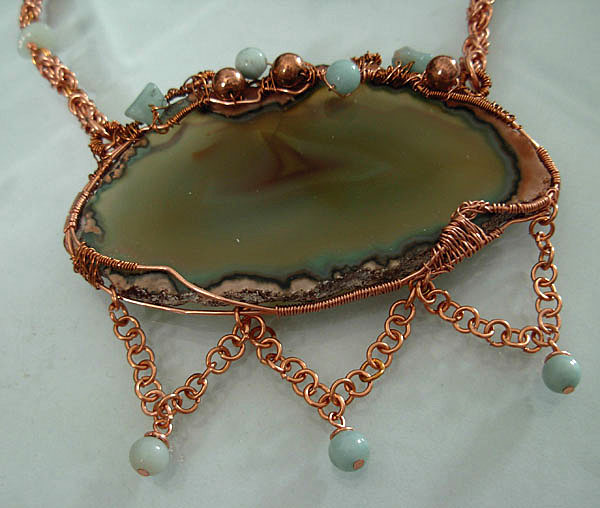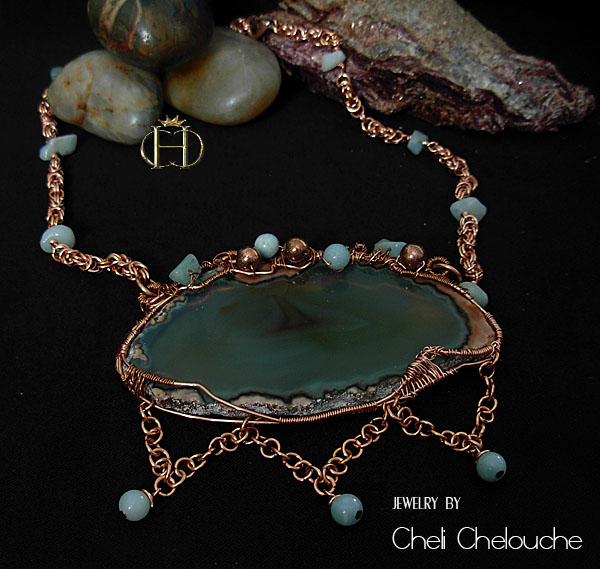 Because of the harmonizing qualities of agate, and its emotional energies of removing and releasing resentments and bitterness, it is also considered by many to be an excellent stone for helping to heal and improve relationships.
Agate can cleanse and stabilize the aura by removing and/or transforming negative energy. Agate strengthen the body and the body's connection to the earth. It enhances healing of all kinds by bringing the elements of the healer into harmony. Physically, agate is particularly helpful with tooth and gum issues, stomach problems, physical endurance, insomnia.
Chakras: All agates can remove blockages from any chakra. Agate also relates to specific chakras according to the stone color.
NCKL0220
Serenity Sailing Agate and aventurine copper necklace
Serenity Sailing. Caress your neck with this enchanting agate slice necklace by Cheli. Natural slice Agate with Green, brown ant teal colors with a sailing boat in the middle gives a serenity picture. Painted by nature. The Agate is set in copper wire wrapped copper adorned with 6mm light aventurine and copper beads. The chain of the necklace is handwoven copper in a byzantine weave sections with aventurine. The creative look of the agate is unique to this piece.
Measurements: Agate pendant: approx. 3.25 inch x 1.75inch
Chain: 16 inch
Agate is a stone of Protection, Strength and Harmony
Agate's most noticeable properties overall are balancing yin/yang energy, courage, protection, healing, and calming. The Metaphysical and Healing Properties Lore of any specific type of agate depend to some extent on the color of the agate, but all agates have certain things in common. Agate is a stone of strength. It was used by the Ancients on the breastplates of armor to give warriors strength and make them victorious in battle. Energetically, it is considered to give strength in both battle and physically. Agate enhances creativity and strengthens the intellect, making it a beneficial stone for both students and artists. It is also known as a good luck stone.
.As a stone of harmony, one of the things agate does is balance yin/yang energy. Agate increases energy. However, because it is a grounding stone, it does not increase energy at all times, but rather enables bursts of energy as needed. In this way, agate is a conservation stone, and enhances longevity. Agate is a very protective stone. Emotionally, agate gives courage, emotional strength, self-confidence, and dispels fears. It can also lessen feelings of envy by grounding the emotions. In the same way, it assists with acceptance of all things. It can be very beneficial for self-examination as well as examination of the circumstances one finds oneself in. These qualities make agate superior for easing anxiety and stress. Particularly when placed on the Solar Plexus (3rd) Chakra, it can help one to accept one's emotions, thereby helping overcome those emotions that one wants to remove.
Price: US $ 195.00