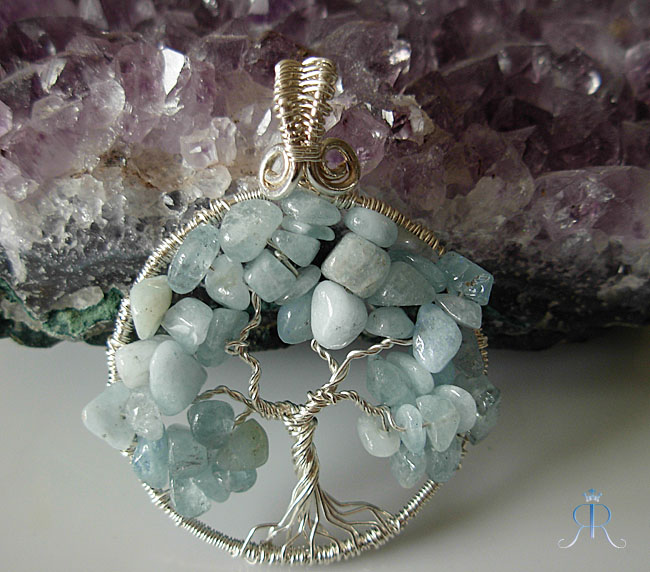 Courage Tree of life- Sterling silver with genuine Aquamarine gemstones pendant is a gorgeous, one-of-a-kind piece of art jewelry.
The roots,trunk and branches are twisted and sculptured in a complex and intricate wire wrap ancient technique, creating a One-Of-A-Kind exquisite piece.
The sparkling Aquamarine light blue color reminds the soothing of the sea. It has the the purity of crystalline waters, and the exhilaration and relaxation of the sea. It is calming, soothing, and cleansing, and inspires truth, trust and letting go. In ancient times, Aquamarine was believed to be the treasure of mermaids, and was used by sailors as a talisman of good luck, fearlessness and protection. It was also considered a stone of eternal youth and happiness. [Simmons, 49] Today it protects all who travel by, over, or near water, and opens the channels of clear and heartfelt communication.The tree top
Materials: Sterling silver (.925) and genuine aquamarine semi-precious gemstones.
Measures: 1.25 inch in diameter (40 mm)
* I can customize it to a smaller diameter size if you like.
a Free 16" silver chain.
*****************
Aquamarine is metaphysically known as a stone of courage and fortitude that can bring great power. It is said to assist with quick intellectual response. It brings inner peace and self-love, gives shielding for the aura, and is said to bring angels for their guidance and protection. As such, it is an excellent crystal for meditation.
Aquamarine is used metaphysically to dispel anger and fear. Aquamarine is also used psychically to do past life recall and work. It is also said to be a wonderful good luck stone. Aquamarine is reputed to assist with calming communication issues. It is said to be attuned to the sea and protect travelers on water and sailors.
In crystal healing lore Aquamarine has been used for healing chronic fatigue, the endocrine system, eyes and eyesight, fluid retention, headaches, intestinal disorders, the nervous system, phobias, and teeth and gum.
Aquamarine is associated with the throat chakra.
Birthstone: December
The jewelry will be shipped in gift box and insured with tracking number