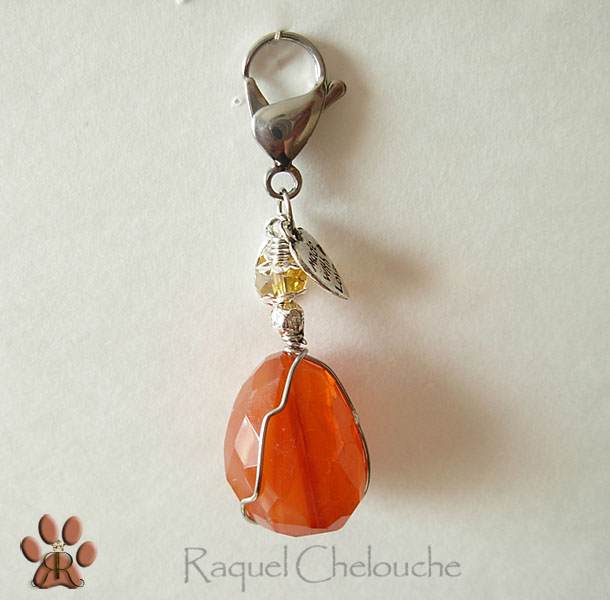 Click images to enlarge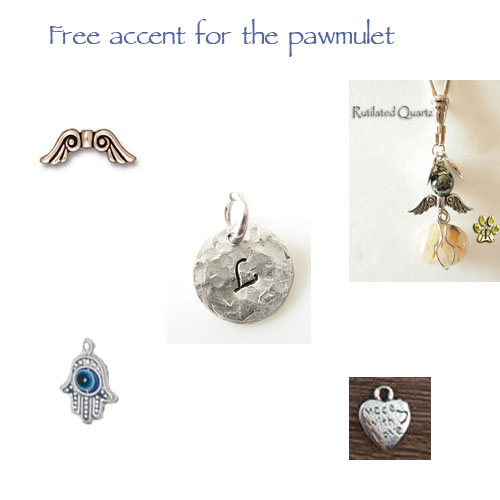 Each Pawmulet by Raquel is handcrafted with semiprecious gemstone. A stainless steel lobster clasp attaches to the pet's collar ring and is accompanied with a split ring to accommodate any size of collar ring.
This amulet consists of a genuine carnelian bead wire wrapped with stainless steel wire. I use stainless steel wire since it is very strong and makes it perfect for very active dogs or for less active pets. Carnelian is excellent for shy and timid pets. It increases their confidence and promotes a sense of courage. The powerful healing properties of Carnelian include the prevention of Blood Diseases, Skin Ailments and Nose Bleeds. Carnelian can be used as a general health rejuvenator.
Carnelian is a red form of chalcedony and it was worn by Egyptians to still anger, jealousy, envy and hatred. Carnelian is an ancient stone used to remedy nerves and anxiety and it is highly beneficial to pets that need a boost in confidence. It also promotes Peace and Harmony.
Weakness during illness
Training problems
Sad elderly animals
Poor appetite
Low energy
Low confidence
Lack of focus
Fading life energy
Depression
Excessively barking
Purring, Whining
Squawking or hissing
Carnelian is associated to the Sacral Chakra
* You can always contact me to find the right amulet for your pets ailment. crystals that will aid your pet health issues.
HCCA001 - Carnelian Healing crystal Pet Charm for sad elderly dogs, low energy
US$ 25.00
For your complimentary item.
Choose ONLY one option FROM THE FOLLOWING
A- angel wings
B- Hamsa
or
C- Initial Disc with the letter of your choice.
ONLY When choosing HAND HAMMERED DISC,
Add Initials to " NOTE TO SELLER"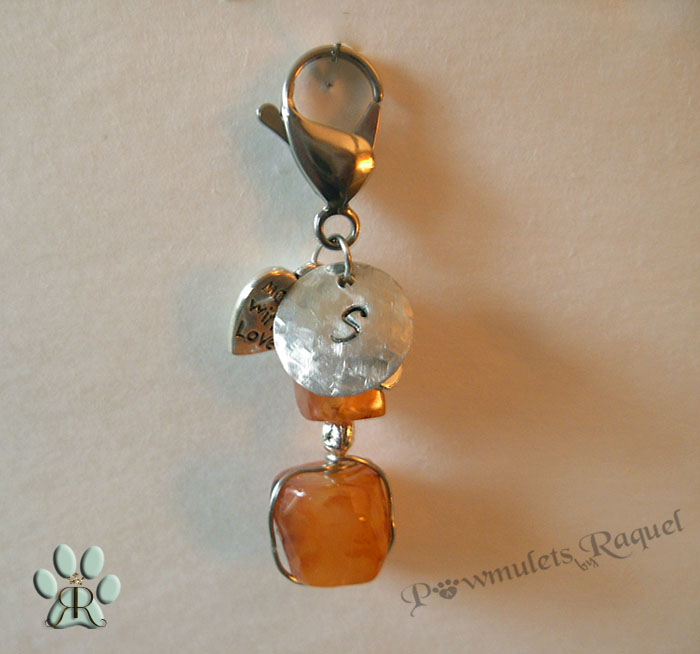 .
Click image to enlarge