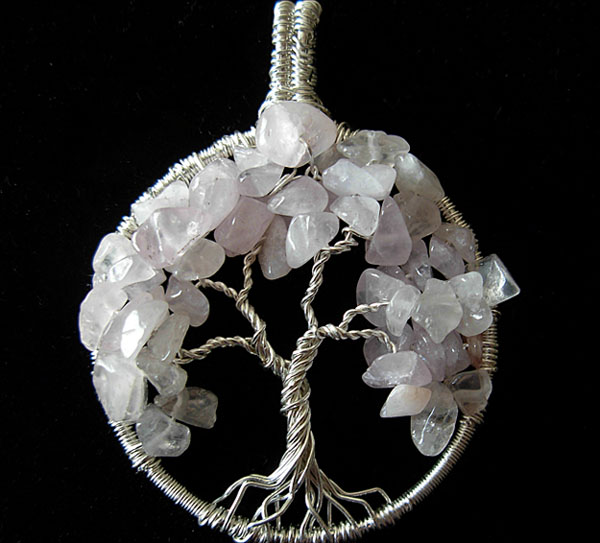 TOL007 The power of Love - Tree of life
This Rose Quartz tree of life pendant is hand sculptured. Sterling silver wire is used to create the roots, trunk and branches. Genuine Rose Quartz gemstones are used to create the top of the tree. This tree of life is a special Energy and inner peace healing and bring love and tranquility.
Measurement: 1.25" diameter. Free silver chain: 16" long
Rose quartz - promotes all types of love including self-love, nurturing love and romantic love. Additionally, serve platonic love and the type of love you find between friends or siblings. By increasing personal awareness, the Rose quartz crystal provides energy to the wearer to allow for both love and self-forgiveness.
Rose quartz crystal is all about delivering kindness, patience and gentleness to others. With the numerous self-healing properties, it will also assist with trauma, agony or broken hearts.
Rose Quartz is called the "Love Stone." Rose quartz also helps alleviate kidney and spleen issues, lessen migraines and reduce headaches. It can also improve skin tone, reduce wrinkles and hide the signs of aging. To make the most of the rose quartz value, the gemstones are best worn close to the heart. A popular method is by wearingIt helps balance emotions and heal emotional wounds and traumas, even grief, bringing peace and calm. Rose quartz removes fears, resentments and anger. It can also heal and release childhood traumas, neglect, and lack of love. It can help with reconciliation with family members and others. It removes sense of guilt
Physically rose quartz is used in crystal healing to benefit the heart, the circulatory system, fertility, headaches, kidney disease, migraines, sexual dysfunction, sinus problems, throat problems, depression, addictions, ear aches, slowing signs of aging, reducing wrinkles, spleen problems, fibromyalgia, and reaching one's ideal weight / weight loss. Rose quartz is also helpful and protective during pregnancy and with childbirth. It is also sometimes said that rose quartz is helpful for supporting brain functions and increasing intellect.
Price: US $ 150.00