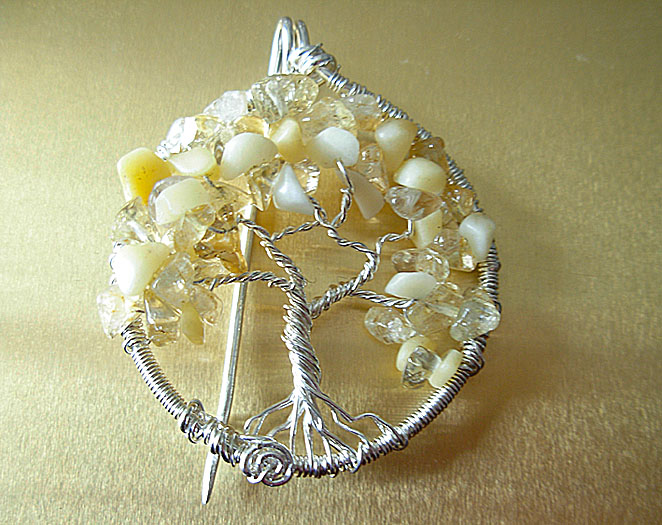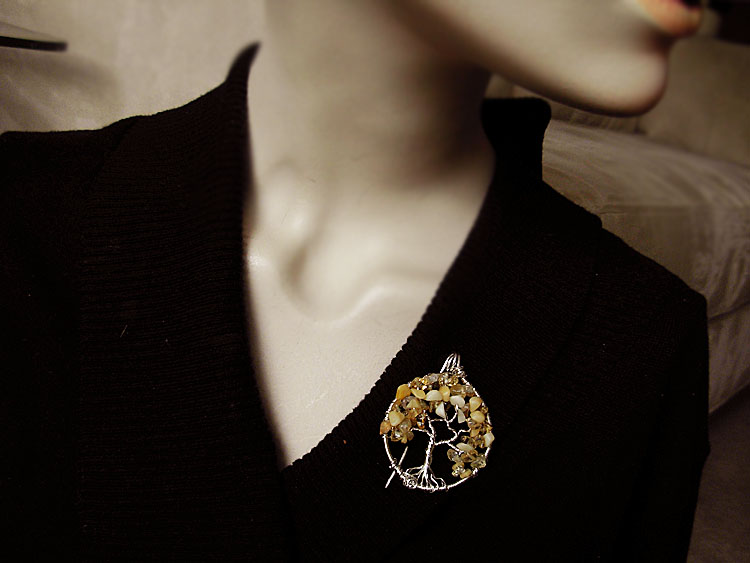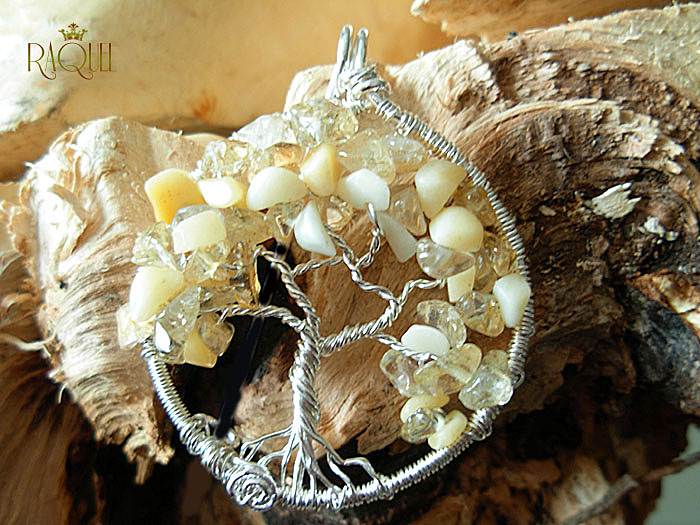 Birthstone: May and June
Jade, considered a very lucky stone, facilitates peace and harmony between the mental, physical, emotional and spiritual aspects of ones life. When all of these aspects operate in harmony and balance, goals become easier to reach. It is said to promote courage, compassion, justice, generosity, humility, wealth and longevity, to lead a richer more fulfilling life.
TOL012 - Golden Luck - Yellow Jade & Citrine Tree of Life Pin/Pendant
US$ 150.00
The Tree of Life is an ancient symbol found in almost every religion. It stands for immortality, as well as our connectedness to our family (family tree), mankind, and all living things. It's a wonderful gift to celebrate a grandmothers birthday, a baby's birth, or an academic achievement (degree or graduation). All nature lovers like them too. This tree was handcrafted, wire-sculptured from Argentium sterling silver wire, yellow jade and natural citrine.
Measures: approx. 1.35" and comes with a 16" silver chain.
Material: Sterling silver
Citrine symbolized Success. It is a stone of Communication
Star Signs: Gemini, Aries, Libra, and Leo
Birthstone: November and June
Citrine is a powerful cleanser and regenerator. Carrying the power of the sun, this is an exceedingly beneficial stone. It is arming, energizing and highly creative. This is on e of the crystals that never needs cleansing. It absorbs, transmutes, dissipates, and grounds negative energy and is therefore extremely protective for the environment. Citrine energizes every level of lifebalances the subtle bodies, aligning them with the physical.
Citrine is one of the stones of abundance. This dynamic stone teaches how to manifest and attracts wealth and prosperity, success and all good things. Citrine is a hoppy, generous stone and encourages sharing what you have and yet helps you to hold on to your wealth. It has the power to impart joy to all who behold it